Overview
Sellers have the ability to apply volume discount pricing to their different product lines, a pricing method that is very common in B2B marketplaces, and rewards buyers who purchase more of a product with an increased discount. The reduced price incentivizes buyers to purchase larger quantities, helping reduce your inventory. The buyer also benefits by restocking their inventory for a significantly lower cost.
For example, a seller could offer 15% off Flower when retailers order $1000 worth of SKUs from the brand's Flower product line. You could also take it a step further and offer 20% off when they spend $1500. This is known as tiered pricing, in which the costs per unit of an on-sale product lie within a particular range.The Volume Discounts feature would aggregate the total spend across all SKUs that fall into the Flower product line, and apply the discount accordingly. An example is shown below:
This tool can be managed through the Pricing section on the side menu of your LeafLink account, along with your Promotions and Custom Menus.
Please note that for Seller-generated orders, volume discounts will appear on the Manual Order Page and automatically apply discounts when the purchase thresholds are met; however the seller will have the option to remove the discounts if needed before submitting the order.
In addition, if a seller wants to offer discounts on an order-level to all their buyers, they can do so by creating a public Promo Code that includes a purchase minimum. Similarly, if the seller wants to apply discounts to a specific SKU or SKUs for seller-generated orders, they can utilize Custom Menus.
How it works
To create new Volume Discounts, navigate to the Pricing section in the blue side menu on their account > click the Volume Discounts tab > then click Create New. From there, you will give the volume discount a name, select which product line you want the Volume Discounts applied to, enter details about the discount (%), add a minimum purchase amount and then save.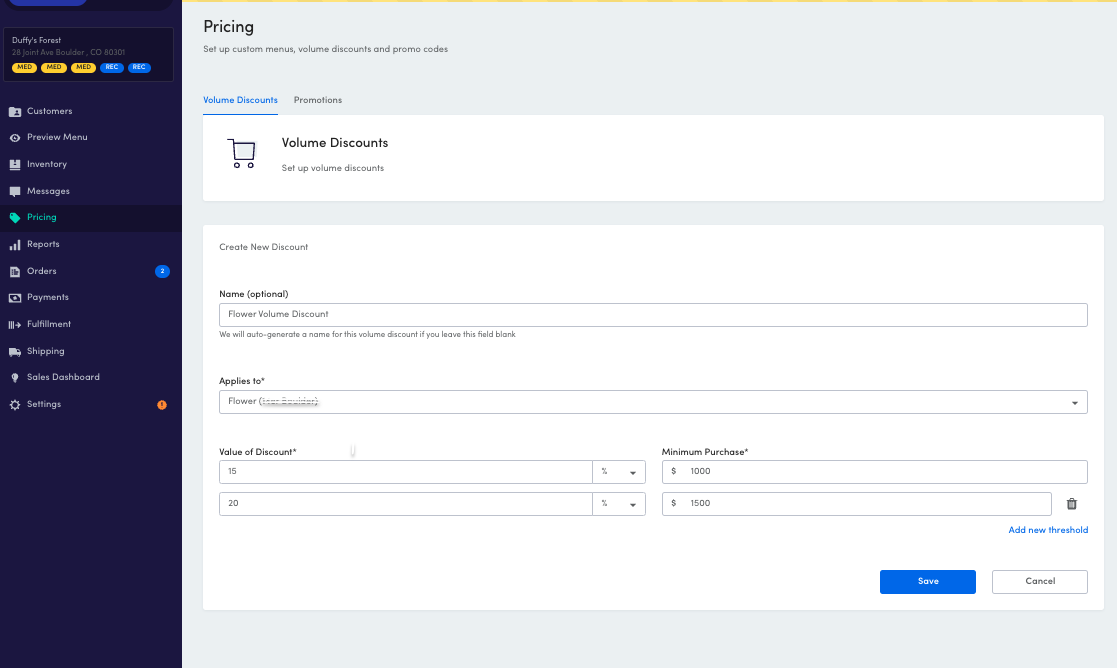 Once you add a Volume Discount to a product line, it will immediately begin to surface to retailers in the Shop Brands page, and then continuously throughout the BGO purchasing workflow.
As a buyer adds products to their cart, they will be able to see how they are pacing against the volume discount's order minimum threshold. Once the minimum threshold is reached, the volume discount will automatically be applied to the items in the cart. All volume discounts applicable to the order will be summarized again on the Checkout page.