While shopping on LeafLink, you may discover a product or brand you have questions about. Aside from reading the brand's profile or product details, you can message the brand directly with your questions.
There are multiple ways to message a brand on LeafLink. In this guide, we'll walk you through messaging a brand from their profile or directly from their menu.
From a Brand Menu
After navigating to a brand's menu, send a message by following these steps:
Click Make a Request next to the product you'd like a sample of.
Click Send Message.
Enter a message for the brand (required).
Enter the amount you're requesting (required).
Click Send.
From a Brand Profile
After navigating to a brand's menu, click View Profile at the top-left of the page. On this screen, click Message. Then, follow steps 3–5 above.
Managing Messages
Click Messages under your Store in the LeafLink navigation panel to access and manage messages you've sent and received.
There are a few ways you can interact with messages on this page:
Click anywhere on a message line to open that message thread.
The status of each message is displayed in the Status column

Messages can be In Progress or Completed

Click the checkbox next to one or more messages, then click Mark As to bulk change the status of your message(s).
Click In Progress to filter messages displayed by either In Progress or Completed.
Type a search term in Search Messages and click Search to filter messages based on keywords, etc.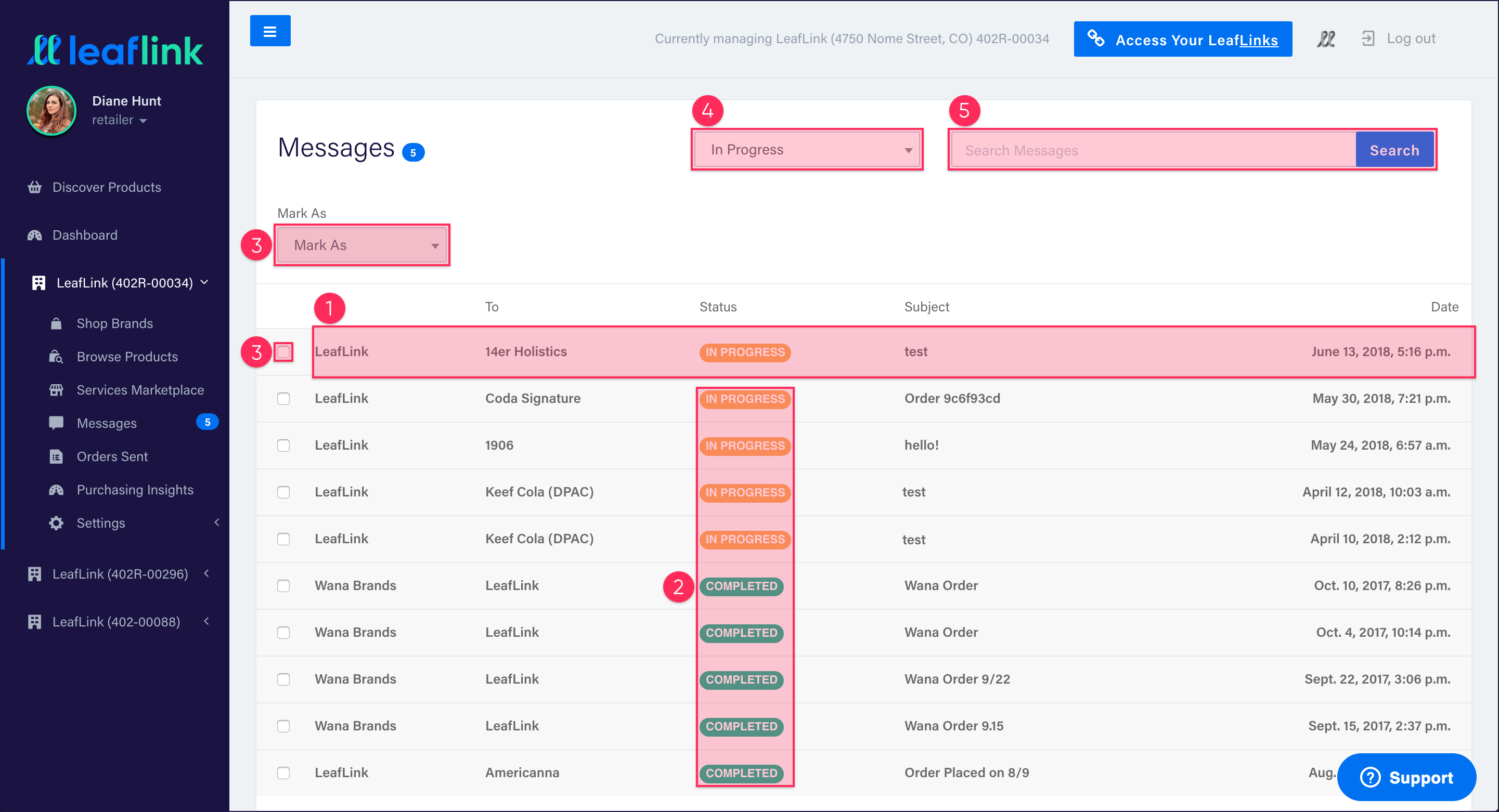 Clicking to open a message thread brings you to the View Message screen which displays the full message thread.
There are a few ways to interact with an individual message on this page:
Compose a response or follow-up message and click Reply to send.
Click the checkbox to mark the message thread's status as Complete.

Click the folder icon to revert the thread back to In Progress.

If the message thread started from a product on the brand's menu, a preview of the product details appears in the top-right of the screen. Use this to quickly add a quantity for the product and click Add To Cart to add the item to your Cart.